Young Adults Retreat 2020: The Courage to Question
Dec 13, 2020 @ 6:00 pm

–

Dec 20, 2020 @ 2:00 pm
YAR 2020: The Courage to Question
6pm, Sunday 13th Dec – 2pm, Sunday 20th Dec
"We can judge our progress by the courage of our questions and the depth of our answers, our willingness to embrace what is true rather than what feels good" – Carl Sagan.
What does it feel like to be in a state of question? What would it be like to embrace the mystery of the universe, to take shelter in the heart?
2020 has shaken the foundations of what many of us consider 'normal.' It could be said that the planet is demonstrating realities that have always been true, but now we are witnessing them on an unprecedented global scale – everything changes; life is struggle; everything depends on everything else.
This retreat will offer ways to explore these realities creatively, meeting the discomfort of not knowing with reliable, trustworthy tools of Dharma – wisdom, compassion and loving awareness. If we can learn to open ourselves to vast, collective fields of intelligence and support, then perhaps we can find extraordinary capacities for creative response and loving action in the face of uncertainty.
YAR creates space for people of the same generation to develop and deepen a meditation practice together, to bring the ancient teachings of liberation to life in our modern context. The Wangapeka Retreat Centre offers beautiful, supportive ground on which to relax and unfurl in order to do this. Most of the retreat will be in silence, with opportunities for questioning and sharing throughout. Explorations will include nature connection, Feldenkrais body awareness work, creativity through colour and clay, as well as daily meditation sessions. Instruction will be offered for those learning to meditate, as well as for those who wish to develop an already established meditation practice.
Costs
Unit or Hut: Member: $534,  Non-member: $604
Camping: Member: $443,  Non-member: $464
This fee includes six days of food and accommodation, and a small materials fee.
Inclusivity remains a core value of YAR and we encourage you to apply for support if cost is a barrier. Funds have been donated to Wangapeka to offer support for people who cannot afford the retreat but want to attend; this is called 'Sangha Support' and operates like a scholarship. To apply, contact the Wangapeka Office Caretaker with your inquiry – wangapekacentre@gmail.com.
Dana / Kōhā
In the Buddhist spirit of dana, the teachings are offered freely by facilitators. Dana translates as 'generosity' – an act that empowers giver and receiver – and is at the core of everything that happens at the Wangapeka Study and Retreat Centre. You will need to bring cash to make this offering.
More Information
If you are interested in participating but have questions about any aspect of the retreat, please contact the course manager, Dan: danielburgess-milne@hotmail.com.
About the facilitators
Elli Yates grew up in the Wangapeka community. She has been a participant and facilitator at Young Adult's Retreats, discovering and sharing a passion for Buddhdharma with her peers and mentors. Elli has received teachings from Bonni Ross, and has been a member of the Wellington sangha with Ruth Pink. She is a secondary school teacher, now living on the Kāpiti coast. Elli has been involved with the Mindfulness for Change community, which aims to pursue systemic change through mindful action. She has participated in a regular Women's Group for many years, learning to develop mindful processes for collective healing. She is committed to ending racism and other forms of oppression through her work in movements for liberation.
Daniel Burgess-Milne has been studying the Buddhadharma since 2012 and has received teachings from various teachers including Tarchin Hearn, Bonni Ross and Lama Mark Webber. He has been both a participant and facilitator of Young Adult's Retreats and has a background working in mental health with youth. Dan has a passion for understanding insight through a contemporary lens, and finding new concepts and methods for exploring timeless wisdom in a modern world.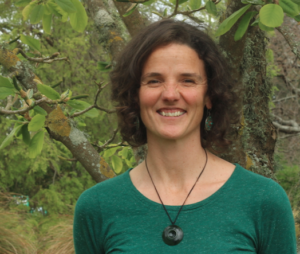 Chani Grieve has been a dedicated practitioner of meditation and body-centred modalities for over 15 years, sharing her experience since 2012. She graduated from the 4-year Feldenkrais Professional Training Program in Melbourne in 2013, and began to weave movement and meditation to utilise the power of working with the body to awaken our innate freedom. She works as a Feldenkrais Practitioner and Community Support Worker, and as part of The dharmasphere Collective based in Nelson, is deeply engaged in the cultivation of "Awakening in Community". Chani has studied, received teachings from, and worked with many influential and inspiring teachers of a range of traditions and lineages, and most intensively over the last 12 years with her principal teacher Bonni Ross. She brings the heart of practice alive through her creativity, connection and care for each individual's unique experience, teaching classes, workshops and retreats in Australia and New Zealand.
Registration
To register please fill out our online registration form
If using Paypal please add 5% of the total cost and include with your payment to cover Paypal's fees – many thanks.
*Please consider becoming a Wangapeka member – click here for details.