Movement From The Heart with Chani Grieve
November 11 – 17, 2016
Moving from the heart unravels the body; Unfolding the body frees the heart.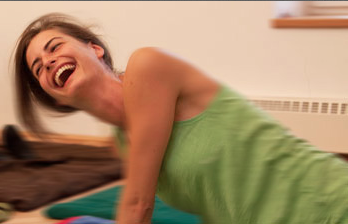 For many reasons we develop habits of protection that are reflected in our bodies and the way we move. Despite our best intentions, these patterns can obscure our innate sense of connection, with ourselves and all of life.
This retreat will explore the natural process of unfolding that takes place when we deeply inhabit the body. Through gentle but profound movements, using the power of awareness, we will land ourselves in the richness of our direct experience. We will learn the art and skill of awareness through movement, infusing our experience with heart-full presence. This heart-centred approach to movement and enquiry fosters a playful and inclusive learning environment – one in which we can begin to unfold, and to thrive.
Participants will be supported by guided group movement classes, opportunity for individual guidance, and body-centred meditation practices to deepen our awareness. Immersed in the inspiring natural environment of the Wangapeka Retreat Centre, this will be a week of true nourishment of body, heart and mind.
Everyone is welcome!
"Once you have tasted inner relaxation, your body will be your truest guide" – Tarthang Tulku
Weekend and part-time attendance is possible, as long as participants can start on Friday 11th. Preference will be given to those who can attend the full retreat.
Costs for this retreat are:
Units/Huts – $384 members/ $420 non-members; $64/$70 per night
Camping – $336 members/ $354 non-members; $56/$59 per night
This includes all meals and accommodation, cooks' fee and contribution to teachers' travel fee
It does not include Dana for the facilitator, which is offered by each individual according to their circumstances, as an act of generosity and appreciation for the teachings they receive.
If using Paypal please add 5% of the total cost and include with your payment to cover Paypal's fees – many thanks.
To register please fill out our online registration form
*Please consider becoming a Wangapeka member – click here for details.
For bookings and enquries, contact the Course Manager – Graham Sandlant graham.ento@gmail.com
About Chani:
"I was born in Tasmania, Australia into a dharma community, and was exposed to the teachings of Buddhadharma from a very early age. Observing my parents and the "grown ups" around me, I remember having a strong sense of the goodness of people, and saw the effectiveness of meditation practice in transforming lives for the better. Travelling around the world as a young adult I came to the conclusion that I needed to investigate this for myself, and I began to practice meditation. 15 years of dance training and various sporting interests had ignited a strong interest in human movement, and I went on to study natural medicine and remedial massage.
I met my teacher, Bonni Ross, in 2009, after repeatedly asking life for a spiritual mentor. That same year, when I encountered Leander Kane's masterful approach to bodywork on a retreat at Wangapeka, I thought clearly "This is how I want to be able to work with people". I embarked upon the 4-year Feldenkrais Training Program in Melbourne the following year.
Over recent years, I've been able to combine my two great passions, meditation and movement, to support and now facilitate retreats and workshops in Australia and New Zealand. Under the guidance of my principal teacher, Bonni Ross, I continue to deepen into a lifelong commitment to sharing the joy of living with others. I am inspired to facilitate people to discover for themselves the liberating power of working with the body.
I've been incredibly fortunate to receive teachings from teachers from a number of traditions, including Zasep Tulku Rinpoche, Tarchin Hearn, Leander Kane, Sonia Moriceau, Sogyal Rinpoche, H.H XIV Dalai Lama, Christopher Titmuss and Jess Huon, as well as many masters of the Feldenkrais Method, and I am constantly inspired by the wisdom traditions, the natural world, and ordinary people doing extraordinary things"
Chani lives with her partner Andy on an intentional community in the subtropical rainforest near Coffs Harbour, Australia.