Namgyal Rinpoche Celebration – Labour Weekend 2023 – FULL
6pm Friday 20th – 2.30pm Monday 23rd October
This retreat is now fully booked. To be placed on the Waiting List or to register for a Day Visit, please contact the Course Manager Jane Hobday jane.hobday17@gmail.com
We are delighted that Terry Hagan and Mala Sikka, special guests from Canada, are planning to come to the Wangapeka for the Labour Weekend Namgyal Celebration, marking 20 years exactly since Rinpoche's passing. Terry was Namgyal's assistant for nearly 30 years and both he and Mala have extensive experience in leading creative courses and retreats.
This special weekend will consist of a range of offerings and experiences …. of teachings, explorations, recollections, shared stories as well as time to just 'be' at the Centre. Everybody is welcome including families with children. It will be a rare opportunity for a gathering of old and young, new and not so new, those who knew Rinpoche and those to whom he is just a name, to come together. It's a chance for us to remember the vision and transformative energy behind the Wangapeka Centre that we care for deeply and which grows and supports us all.
Priority will be given to those who are able to attend for the whole weekend.
Costs
These costs include food, cooks fee and a resource fee. They do not include accommodation which is by dana for this special occasion. We are expecting many visitors so sharing with family and friends will help us accommodate all who wish to come.
Members and non members (rooms) – $128 plus dana for accommodation
Members and non members (camping) – $128 plus dana for accommodation
Children 14-18 – $108 plus dana for accommodation
Children 5–13 – $69
Under 5  – No charge
Please add any dana you wish to give the Centre for accommodation to the total payment.
About Terry and Mala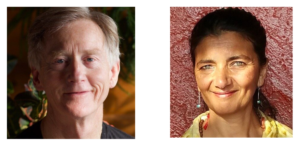 For over a decade they were resident teachers at the Dharma Centre of Canada (founded by Namgyal Rinpoche). More recently they together completed a three year retreat under the guidance of Dzongsar Jamyang Khyentse Rinpoche. You can read more about Terry and Mala here.
About dana
These priceless teachings can't be quantified in monetary terms. Liberation teachings have always been given freely.
An offering can be made to the teacher, traditionally at the beginning of the retreat, and is a profound practice in itself. Giving can help us open; and through an open-hearted state of receptivity, we can find ourselves more able to receive.
Giving as generously as you can enables teachers to continue sharing the precious Buddhadharma for the benefit of all.
Dana for Terry and Mala
There will be a dana bowl available during the weekend to support Mala and Terry.
For more information
For more information. contact Jane Hobday jane.hobday17@gmail.com
To register
This retreat is now FULLY booked. Please do NOT register at this time.
To be placed on the Waiting List or to register for a Day Visit, please contact the Course Manager Jane Hobday jane.hobday17@gmail.com
To register please fill out our online registration form
If using Paypal please add 5% of the total cost and include with your payment to cover Paypal's fees.
Please consider becoming a Wangapeka member – click here for details.