Date
09 - 17 Nov 2022
Expired!
ReWild – Wilderness Meditation Retreat – New Dates
A guided 5 day meditation retreat with emphasis on Nature connection and human wholeness
New Dates: 9th – 14th November 2022.
We shortened this retreat to make it more accessible for anyone that wants to have more of a community retreat guided by Jaime and Ju. It will run from the 9th- 14th. 5 days to be supported to develop a meditation practice in community. Daily guided meditations, community meals, evening chanting. A time for all to be nourished.
Why come to this Retreat?
This retreat will guide and support you into the art of meditation, the natural state of belonging with all of life. It is interesting how as adults of all ages we can become distanced from the happiness and creativity of wonder and innocence. Meditation is about learning how to put down the parts of the mind that continually seek to solve problems, in favour of learning to rest in being.
Two things we need: a passion for inquiry and a vast spacious heart
The Nectar of Naturalness by Tarchin Hearn
Our intention is to guide our group to deepening the meditation practice inspired by the teachings of Tarchin. We are entering the heart of clear seeing and love.
Beyond this, Jaime and Ju are finding that it is not enough to meditate, we need to integrate the gifts of meditation into the hot messy creativity of our relational lives. We also believe we need to resource ourselves back into nature, we are calling this a process of Re-Wilding.
We are offering this retreat as a question, "what might it mean to be a true adult? And, "how can meditation help us?" It is ongoing work but it has something to do with living fully with the inheritance of a wild animal body/mind, while cultivating through deepening familiarization a feeling for the one taste of pure beingness.
This retreat is a continuation and a whole in itself, you can come just for this part, especially if you want to learn meditation in a supportive group or deepen your practice with people who are interested in the work of Joanna Macy and to participate in the Great Turning. The first part of the ReWild retreat takes place in the Tui Events park, it is more active, offering conscious dance, circling work and an initiation. More information can be found here, it will explain how the two retreats weave together: https://www.centreforthegreatturning.org/rewild-retreat-2022
Your guides
Alongside the more than human world, the retreat will be offered by Jaime Howell and Juliana Griese. It takes place in the beautiful and supportive environment of Wangapeka. This centre was one of the first retreat centres in Aotearoa. Wangapeka offers us a deeply supportive environment, you will be moving into the presence of generations waking up. Jaime and Juliana have recently founded the Centre for the Great Turning, a charitable trust dedicated to moving away from an industrial growth society and into a self-sustaining society. Visit www.centreforthegreatturning.org for more information.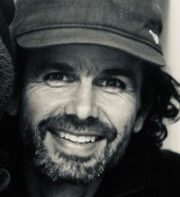 Jaime Howell: Jaime Howell is a musician, a lover of mythological stories, a poet emerging, rite of passage guide and Meditation/Open Floor teacher. He is a graduate of a three year school of mindfulness/meditation who went on to spend another three years as the resident practitioner at the Wangapeka Study and Retreat Centre. He meditates everyday and has done for 22 years. He is a volunteer Director of the Rites of Passage Foundation. Jaime has a Masters in Education.
Juliana Griese: I have been exploring and sharing progressively since 2007, contemplative practices/meditation moved by a passion in the area of ecology and community care. I worked for more than 15 years in Brazil with NGOs, the environmental movement and research projects focused on wild animal ecology. I am beginning to explore more deeply and delivering The Work that Reconnects for communities and in retreats. I am a NVC passionate and do my best to put it into practice. I am an enthusiastic supporter of community building.
Together we are a couple in awakening, singing, meditating,making messes and beginning anew, building new cultures of love and clear seeing. We have the deepest aspiration to support each other in our growth and collaborate in the Great Turning.
Costs
Stay in Units:
Non Wangapeka member $500
Wangapeka member $450
Camping:
Non Wangapeka member $375
Wangapeka member $360
We are not including in this price our role as organizers and facilitators. To contribute to our work you can choose to give what is in your heart combining with what is possible for you at this moment. A Dana/Koha box will be available.
Places are limited.
Registration
To register please fill out our online registration form
If using Paypal please add 5% of the total cost and include with your payment to cover Paypal's fees.
Please consider becoming a Wangapeka member – click here for details.
Do you want more?
ReWild Part One 3rd – 8th November:
This Wangapeka retreat is part of a two week journey into wholeness. The first week will take place on the TreeField, Golden Bay.
If you are interested check here more information https://www.centreforthegreatturning.org/rewild-retreat-2022
or get in contact with Jaime and Juliana: jaime8ju@gmail.com