Tēnā koutou,
You are warmly invited to a community celebration of service on Sunday 29th November at Rabbit Island from 2-5pm. Patrick and Amber have been serving as Caretakers at the Wangapeka through a very strange year and have done a beautiful job. Here is a chance to celebrate and give thanks for their service before they depart on their next adventures.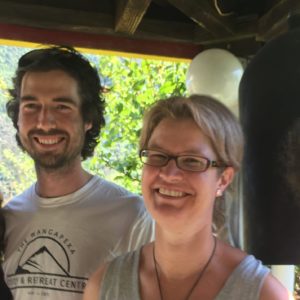 Patrick made the great suggestion of a Rabbit Island excursion, and we have our fingers crossed for dry weather. If the forecast predicts rain we will gather at Jane and Graham's house instead – 4 Mickell Rd, Brooklyn, near Motueka. We will give two days notice for this wet weather plan B. Either way, please bring a plate for a potluck afternoon tea
Otherwise, the Rabbit Island afternoon tea location will be the usual sangha meeting spot: follow the road to Rabbit Island. At the T junction right at the end when the speed limit goes down to 20km, go straight ahead (not left) and follow the road round towards the sea. There is a U turn near the beach and the spot is on the left just after the U turn.
We look forward to gathering as a sangha to farewell our amazing Caretakers at the end of the month. Come anytime for as long or short as you are able – everyone welcome. Please RSVP to elliyates@gmail.com.
Sarva mangalam,
Elli and the BoT members.
When: Sunday 29th November from 2 to 5pm.
Where: Rabbit Island
Contact: Elli Yates